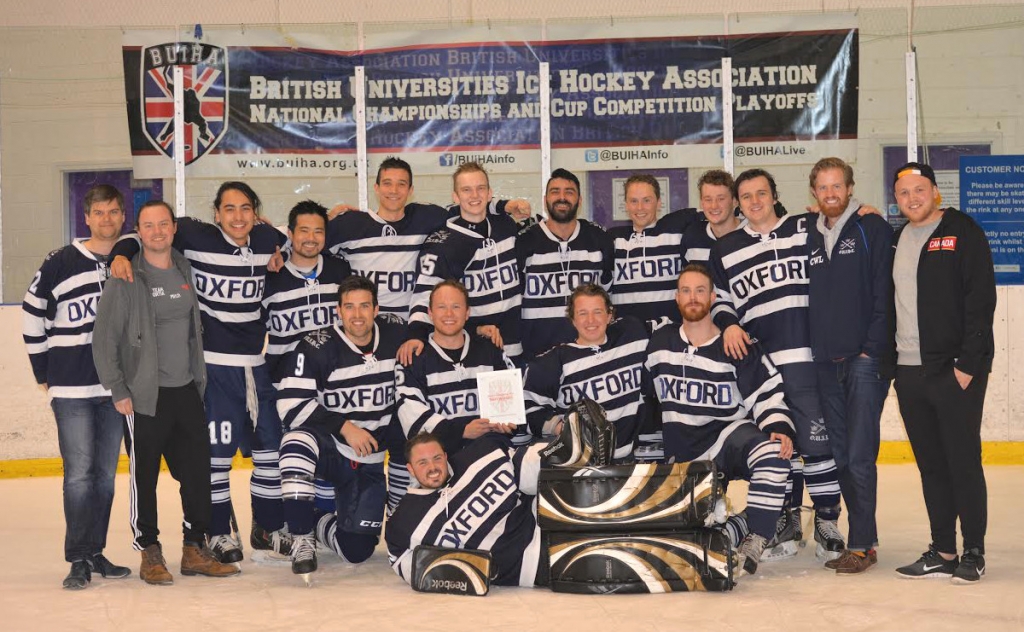 Oxford University Blues – National Champions 2015-16
With the regular season over, the Oxford University Blues took to the ice in Sheffield this past weekend (April 23rd/24th 2016) to compete for the annual British Universities Ice Hockey Association (BUIHA) division one National Championship. Seeded sixth out of nine going into the tournament despite going 5 wins and 3 losses in the regular season and only one loss in 2016, the OUIHC Blues looked to prove they were the best university ice hockey team in the nation after a close second place finish behind league winners – the Cambridge Blues.
Oxford started their campaign with an impressive 6-3 win over northern champions Nottingham Mavericks much to the surprise of everyone. A close 3-2 win against hometown-team Sheffield Bears, an intense 3-3 back and forth game with the defending National Champions – the Southampton Spitfires – and a 7-0 routing of the Northumbria Kings led to a semi-final matchup against the St. Andrew Typhoons.
A physical semi-final match and shootout heroics saw the Blues take down St. Andrew's (2-1 overall; 3-2 in the shootout) to face defending champions Southampton Spitfires in the final (who knocked out the Cambridge Blues also in a shootout in their semi-final encounter).
Successive Oxford goals and relentless pressure from the Blues defence lead to a final score of 5-1 securing OUIHC's first division one National Championship. An honourable mention goes to the teams who made it out of the group stages, especially Southampton who played in their third division 1 final in as many years.
The Blues celebrated their accomplishment at the Blues Presentation Ceremony on Thursday 28th April at the Oxford Town Hall with the Oxford Women's ice hockey Blues and other Dark Blue Varsity teams. The ladies received their Blues from Olympic rower Debbie Flood while the Men's Blues await their Varsity Match.
The Men's Blues representing the Championship winning team at the Blues Presentation Ceremony.
The newly crowned National Champions face off against the League Champions – the Cambridge Blues – in the 98th instalment of the ice hockey Varsity Match on May 15th at Oxford ice rink.
Come and support your classmates and fellow Dark Blues onto victory! Tickets (£6 for one, £20 for four) are available here: https://try.tilt.com/ouihc-varsity